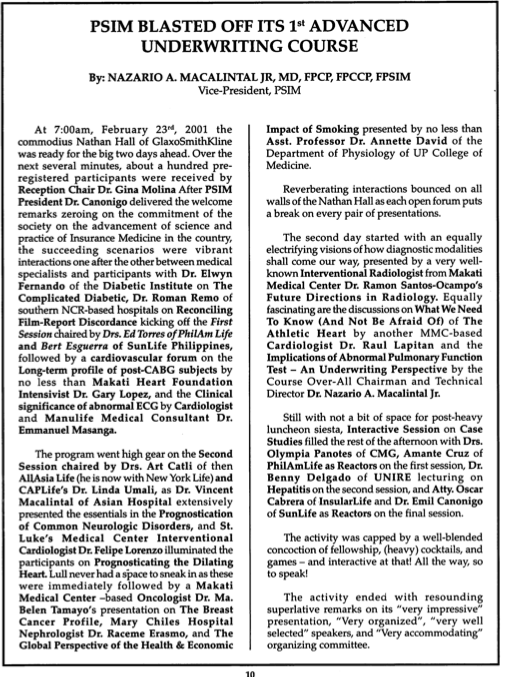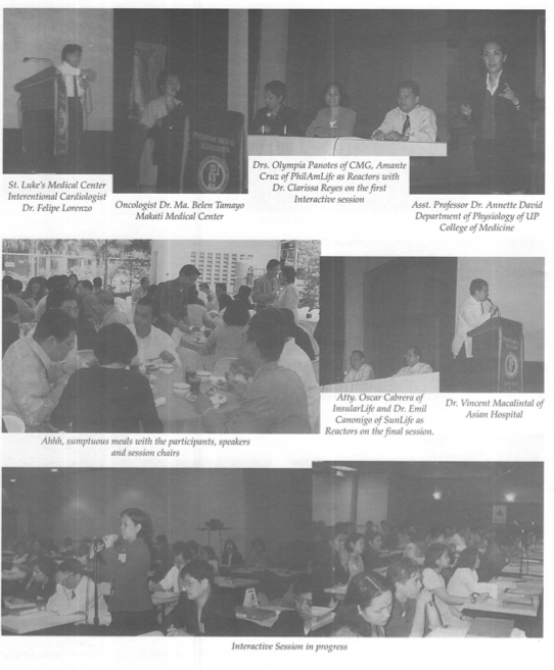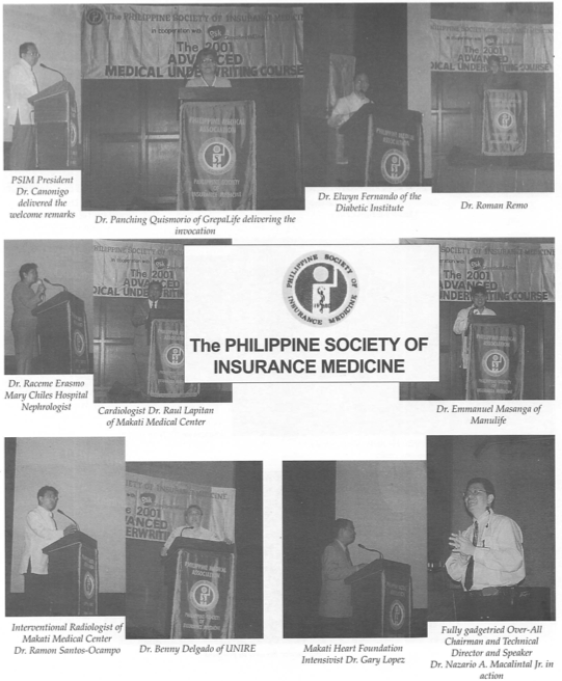 Under the leadership of the vibrant Dr. Emiliano B Canonigo of Sunlife, the PSIM plasted its maiden Advanced Medical Underwriting Course. Together with its core group who bonded to put things together, PSIM successfully held the said convention!
ORGANIZING COMMITTEE
PATRICIA S. CHING, MD
CME Committee Chairperson and Secretariat
NAZARIO A. MACALINTAL JR., MD,
Organizing Committee Chairman
WORKING COMMITTEES
Physical Arrangement
Chairman - Art Catli, MD
Member – Nazario A. Macalintal Jr. , MD
Registration / Reception
Chairman: Gina Molina, MD
Members: Eleanor Tanada, MD
Miss Violy Paculan
Publications & Documentation
Chairman: Fil Arches,MD
Member: Bert Esguerra, MD
Ways And Means
Chairman: Jo Cano, MD
Members: Marina Roldan, MD
Benedicto Delgado, MD
PSIM OFFICERS 2000-2001
Emiliano B. Canonigo Jr., MD - President
Patricia S. Ching, MD - Vice-President
Marina R. Roldan,MD - Secretary
Esperanza E. Quismorio, MD - Treasurer
Benedicto G. Delgado, MD - Auditor
Lito S. Maranan, MD - Public Relations Officer
PSIM BLASTED ITS 1st ADVANCED UNDERWRITING COURSE
At 7:00am, February 23rd, 2001, the commodious Nathan Hall of GlaxoSmithKline was ready for the big two days ahead. Over the next several minutes, about a hundred pre-registered participants were received by Reception Chair Dr. Gina Molina After PSIM President Dr. Canonigo delivered the welcome remarks zeroing on the commitment of the society on the advancement of science and practice of Insurance Medicine in the country, the succeeding scenarios were vibrant interactions one after the other between medical specialists and participants with Dr. Elwyn Fernando of the Diabetic Institute on The Complicated Diabetic, Dr. Roman Remo of southern NCR-based hospitals on Reconciling Film-Report Discordance kicking off the First Session chaired by Drs. Ed Torres of PhiAm Life and Bert Esguerra of SunLife Philippines, followed by a cardiovascular forum on the Long-term profile of post-CABG subjects by no less than Makati Heart Foundation Intensivist Dr. Gary Lopez, and the Clinical significance of abnormal ECG by Cardiologist and Manulife Medical Consultant Dr. Emmanuel Masanga.
The program went high gear on the Second Session chaired by Drs. Art Catli of then AllAsia Life (he is now with New York Life) and CAPLife's Dr. Linda Umali, as Dr. Vincent Macalintal of Asian Hospital extensively presented the essentials in the Prognostication of Common Neurologic Disorders, and St. Luke's Medical Center Interventional Cardiologist Dr. Felipe Lorenzo illuminated the participants on Prognosticating the Dilating Heart . Lull never had a space to sneak in as these were immediately followed by a Makati Medical Center -based Oncologist Dr. Ma. Belen Tamayo's presentation on The Breast Cancer Profile, Mary Chiles Hospital Nephrologist Dr. Raceme Erasmo, and The Global Perspective of the Health & Economic Impact of Smoking presented by no less than Asst. Professor Dr. Annette David of the Department of Physiology of UP College of Medicine.
Reverberating interactions bounced on all walls of the Nathan Hall as each open forum puts a break on every pair of presentations.
The second day started with an equally electrifying visions of how diagnostic modalities shall come our way, presented by a very well-known Interventional Radiologist from Makati Medical Center Dr. Ramon Santos-Ocampo's Future Directions in Radiology . Equally fascinating are the discussions on What We Need To Know (And Not Be Afraid Of) of The Athletic Heart by another MMC-based Cardiologist Dr. Raul Lapitan and the Implications of Abnormal Pulmonary Function Test - An Underwriting Perspective by the Course Over-All Chairman and Technical Director Dr Nazario A. Macalintal Jr.
Still with not a bit of space for post-heavy luncheon siesta, Interactive Session on Case Studies filled the rest of the afternoon with Drs. Olympia Panotes of CMG, Amante Cruz of PhilAmLife as Reactors on the first session, Dr. Benny Delgado of UNIRE lecturing on Hepatitis on the second session, and Atty. Oscar Cabrera of InsularLife and Dr. Emil Canonigo of SunLife as Reactors on the final session.
The activity was capped by a a well-blended concoction of fellowship, (heavy) cocktails, and games - and interactive at that! All the way , so to speak!
The activity ended with resounding superlative remarks on its "very impressive" presentation, "Very organized", "very well selected" speakers, and "Very accommodating" organizing committee.
Job Very Well Done!
(Now, let's have coffee!)
Final Announcement
23-24 February, 2001
NATHAN HALL, GlaxoSmithKline
2266 Pasong Tamo Extension, Makati City
09 February, 2001
Dear Colleagues in the Industry:
It is with great pride that we announce PSIM's 2001 Advanced Medical Underwriting Course especially designed for the ever changing needs of our underwriters. Meet the experts in the Insurance Medicine and hear them address hot issues on breast malignancy, coronary artery diseases, fatal asthma, post-bypass longevity, and others! Receive underwriting updates on urinalysis, and debilitating neurologic disorders. Move ahead and know the latest on complicated diabetes, athlete's heart and future directions in radiology. Join your colleagues in our Interactive Workshop on disability and death claims! Have your representatives enroll now!!
Who will benefit from this course: Medical Directors, Medical and Lay Underwriters, Claims Analysts, and Actuaries.
Limited reservations only.
For interested parties from companies A à L, contact Dr. Eleanor Tanada at 817-3051 loc 3294 or e-mail: egt@mx.insular.com.ph
For interested parties from companies M à Z, contact Dr. Gina Molina at 844-2105 or thru fax 888-0593
PRE- REGISTRATION FEE: P2,500.00 / Participant until January 24th, 2000. After January 24th, P3,000/ participant
Cognizant of the economic condition, we offer one (1) free registrant for every five (5) participants from each member-company. Confirmation of reservation requires settlement of registration fees by February 7th, 2001
PROGRAM February 23rd 2001 - Friday
7:00-8:00 On-Site* Registration / Reception
8:00-8:05 Invocation - Lito Maranan, MD - PRO, PSIM
8:06-8:10 National Anthem - Venise Leonardo, MD
8:11- 8:20 Welcome Address - Emiliano Canonigo Jr., MD
President - PSIM 2000
08:20-08:30 (Orientation on the Program) - N. Macalintal Jr., MD
Session I – FEBRUARY 23(FRI), 2001 AM
Chairman: Edilberto Torres, MD
Co-Chairman: Bert Esguerra, MD
08:40-09:25am "I am a 50y/o lawyer-professor, diabetic for 10 years with strict sugar control over the past 6 months. My CBC shows Hgb=12, still within N and my creatinine is 1.9, hardly up I understand? Why can't I have my riders? – Prognosticating the Complicated Diabetic – Richard Elwyn Vitug Fernando, MD
9:30-10:15AM "You mean my applicants' chest x-ray report is normal but the company sees it otherwise? How's that? RECONCILING FILM-REPORT DISCORDANCE - ROMAN reMO, md
10:16-10:29 Open Forum / COFFEE BREAK
10:30-11:15am "I had my Coronary Bypass 5 years ago. And my golf has been in full swing for a year now? Can my riders be put back and my coverage increased? – The Long-Term Profile of Post-CABG Subjects – Gary A. Lopez,MD , Makati Heart Foundation
11:20 -12:05PM " My client has non-specific ECG changes. Why is he being required to undergo TMST for this P3M application?" -When is an abnormal ECG significant? - EMMANUEL MASANGA ,MD
12:06-12::15 Open Forum
12:16 - 1:30PM LUNCH
Session II -

FEBRUARY 23 (FRI), 2001 PM
Chairman: Art Catli, MD
Co-Chairman: Linda Umali, MD
01:30PM-02:15PM " I had limping gait six months ago from Guillain –Barre and I've been back to office with field work for two months now. Can my disability benefit be considered by my insurance company? – PROGNOSTICATING COMMON NEUROLOGIC DISORDERS – VINCENT MACALINTAL, md
02:16 –03:00PM "My client's severe hypertension has spontaneously resolved. Yes, his CXR shows enlarged heart, but his ECG is normal. Why is he being declined? – PROGNOSTICATING THE DILATING HEART – FELIPE LORENZO III, MD
03:01PM - 03:15PM OPEN FORUM /COFFEE BREAK
03:16-04:00PM "I had my breast cancer surgery done 10 years ago. I don't feel anything. My latest medical check-up was normal except for that mild pleural effusion report. Why can't I reinstate my recently lapsed policy?" - BREAST CANCER - THE PROFILE – MA. BELEN TAMAYO, MD
04:01-04:45PM "IMPLICATIONS OF ADVERSE URINALYSIS REPORTS" – RACEME ERASMO, MD
04:46-05:15PM "The Health & Economic Impact of Smoking - A Global Perspective" -ANNETTE DAVID, MD
05:16PM - 05:30PM OPEN FORUM
SESSION III -FEBRUARY 24 (SAT), 2001 AM
Chairman: Benny Delgado, MD
Co-Chairman: Fil Arches, MD
08:00-08:45AM FUTURE DIRECTIONS IN RADIOLOGY RAMON SANTOS-OCAMPO, MD
08:46-09:30AM Agent: "My client's application was postponed because of marked cardiac enlargement and axis deviation in his ECG? How could that be when he actually is a swimmer? - THE ATHLETIC HEART – WHAT WE NEED TO KNOW (And Not Be Afraid Of) – RAUL LAPITAN, MD
09:31-09:45 OPEN FORUM / COFFEE BREAK
9:46-10:30AM - "The client's Peak Flow was reported normal despite ER consultations for apparent asthma attacks !?!? How could he have died suddenly?" -THE FATAL AND NEAR-FATAL ASTHMA - NAZARIO A. MACALINTAL JR.,MD
10:31am – 10:40am –
Description of the Interactive Session
10:41am - 11:45am -

CASE STUDY 1

(Interactive)
Reactors:
Antonio A. Santiago, MD (GSIS)
Leticia B. Ong, MD (SSS)
Olympia Panotes, MD - CMG
Amante Cruz, MD – PhilAm LLife
11:46am - 1:00PM LUNCH
Session IV - February 24(SAT), 2001 PM
Chairman: Ammie Zafra, MD
Co-Chairman: Marina Roldan, MD
1:01PM – 1:30 PM - CASE STUDY 2 (Interactive)
Reactors:
Benedicto G. Delgado, MD – Universal Re
Pedro Feria, MD - CAP Life
1:31pm – 2:15pm CASE STUDY 3
(Interactive) Reactors:
Atty. Oscar Cabrera (Legal And Claims)
Emiliano B. Canonigo Jr., MD – Medical Director, Sunlife Of Canada
02:16pm – 02:30pm - OPEN FORUM
02:31pm – 03:30pm Fellowship / Cocktails / Games / Awarding of Certificates
03:31pm – 03:40pm CLOSING REMARKS - Patricia S.Ching, MD - CME Chairperson
Our sincerest thanks to the Management of GlaxoSmithKline who made this project possible!
To all our members, The Speakers' Presentation of this convention is still for retrieval. If you happen to have a copy of them please let us know so that we can upload them here.