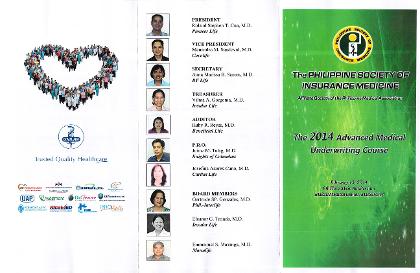 The PHILIPPINE SOCIETY OF INSURANCE MEDICINE
presents
THE 2012
ADVANCED MEDICAL UNDERWRITING COURSE
February 17, 2012 (Friday)
Venue: Rose and Peony Rooms
New World Makati City
PROGRAMME
8:00-8:30 am On-Site Registration * / Reception
8:31-8:40 am Invocation/National Anthem –
GERTRUDES SP. GONZALES, MD
8:41 - 8:50 AM
-
WELCOME ADDRESS
MS. JOY U. ONG
Session I – February 17, 2012
Friday AM
9:00-10:00 AM PULMONARY FUNCTION TESTS
ERIBERTO F. esgueRra, MD
10:01 - 11:00 am CHRONIC OBSTRUCTIVE PULMONARY DISEASE
ERIBERTO F. esguerRa, MD
11:01 - 11:45 underwriting correlation
Open Forum
11:45- 12:50 NN LUNCH
Session II – February 17, 2012
Friday PM
1:00 - 2:30 PM HIV & THE AIDS LAW
ROSANNA A. DITANGCO, MD
GENESIS MAY J. SAMONTE, MD
2:31 - 3:00 Open Forum
3:01- 3:40 PM IC & THE CLAIMS PROCESS
MA. LOURDES L. RAMOS
3:41 - 4:00 Open Forum
4:01 - 4:08 PM
-
CLOSING REMARKS
MENANDRO M. SANDOVAL, MD
President, PSIM, 2011-2012
4:09 – 5:00PM - AWARDING OF CERTIFICATES
EVALUATION FORMS
AFTERNOON SNACKS
EMCEE : ROLAND STEPHEN CUA, MD
PRO, PSIM, 2011-2012
ORGANIZING COMMITTEE
ROLAND STEPHEN T. CUA, MD
CME Committee Chairman
WORKING COMMITTEES
PHYSICAL ARRANGEMENTS
Roland Cua, MD
REGISTRATION / RECEPTION
Anna Marissa Bustria-Santos,MD
Vilma Gorgonia, MD
PUBLICATIONS & DOCUMENTATION
Jimmy Talag, MD

Welcome to the virtual office of the Philippine Soceity of Insurance Medicine.
This site is being created to primarily serve as the depository of all the society's activities in particular its continuing educational program in the field of insurance underwriting. It shall also house its history, its past and recent achievements, its social responsibility, and current activities and future plans.
Hopefully, this initiative will pave more ways for the subsequent officer os the organization to sustain its existence to a benchmark level and redefine its purpose.